Flying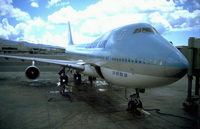 The Springfield-Branson Regional Airport (SGF) is approximately 43 miles from Branson and serves all of Southwest Missouri with 66 daily flights connecting to eight international airports via five airlines. These five airlines offer direct flight to and from Chicago , Cincinnati , Dallas/Ft Worth, Denver , Detroit , Memphis , Minneapolis and St. Louis .
The airport offers rental car options, a gift shop, restaurant and a visitor information center in the main terminal. For those who do not want to rent a car, there are several shuttle services that transport passengers from the airport to Branson. Best Price Shuttle and Tours is located at the airport, phone 417-251-0153 or 417-561-4862.
The airport offers general aviation services including aircraft service, tie-down space, 24-hour fueling and a pilot's lounge.
Springfield-Branson Regional Airport offers the indoor transfer of passengers and baggage from the aircraft to a motor coach for a small fee. Group leaders can pre-register for this option on the SGF website.
Springfield-Branson Regional Airport , 5000 W. Kearney , Suite 15 , Springfield , MO 65803 -9573, phone 417-869-0300 or www.sgf-branson-airport.com.
Copyright © 2005-2009 Branson Missouri by Writers Opinion LLC Send Comments, Privacy Policy, Terms And Conditions, Contact Us