Dogwood Canyon Nature Park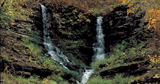 Dogwood Canyon Nature Park offers riding trails that are somewhat more challenging than most, therefore the minimum age for the one-hour ride is 12 years. This ride explores ridges and hollows not seen by the tram or the walking and biking trails. For youngsters, age 3 –11, a 15-minute junior horseback riding tour is offered.
Groups of 10 or more persons may relive the excitement of the old west on an authentic cattle drive followed by a scrumptious chuck wagon meal. Reservations are required.
Carriage rides are also available at Dogwood Canyon Nature Park .
Dogwood Canyon Nature Park , owned by Bass Pro, has log cabins with all the comforts of home allowing quick access to the many outdoor activities offered in the park. The activities include tram tours, private jeep tours, kayaking, trout fishing, walking and biking. World Bird Sanctuary's "Birds of Prey" provides an up-close look at the widest variety of native and exotic birds of prey in North America . The Hope Wilderness Chapel provides a quiet retreat and perfectly complements the canyon's peaceful environment. The Chapel is available for weddings and vow renewals.
Dogwood Canyon Nature Park , 2038 West State Highway 86, Lampe, phone 417-779-5983 or www.dogwoodcanyon.com.
Copyright © 2005-2009 Branson Missouri by Writers Opinion LLC Send Comments, Privacy Policy, Terms And Conditions, Contact Us