Ride the Ducks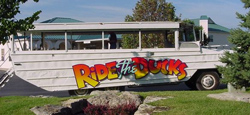 Hop aboard a "Duck" on The Strip for a cruise that includes driving into Table Rock Lake ! The 80-minute ride on the Ducks offers an entertaining and informative tour that goes down Country Music Boulevard, to the top of Baird Mountain, across Table Rock Dam and splashes down into Table Rock Lake for a relaxing cruise.
The vehicles used in these tours were first built in 1942 by General Motors for ship to shore transport of military men and supplies and were used during World War II.
With the war over, like the soldiers, they adapted to peacetime. For the past 50 years they have been used across the country for sightseeing and transport over one million passenger per year.
Since coming to Branson in 1971, Ride the Ducks now operates between 17 and 25 "Ducks." They can go 60 miles per hour on land and "swim" 4 miles per hour in the water. Passengers are able to see both land and water sights.
This unique tour of Branson points out unique city attractions, gives historical background of the area and shows landmarks and geography in a learn and laugh a lot way that makes this excursion one of the first things a person should do in Branson. As a bonus every passenger receives a free Wacky Quacker.
Frequent departures seven days a week from 2320 W. Highway 76, Branson (near Wal Mart and Green Mountain Drive ), phone 417-334-DUCK or www.bransonducks.com.
Copyright © 2005-2009 Branson Missouri by Writers Opinion LLC Send Comments, Privacy Policy, Terms And Conditions, Contact Us