Edwards Mill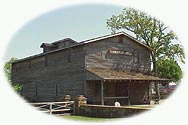 The working mill was built with funds provided by Mr. and Mrs. Hubert C. Edwards and is powered by a 12-ft. water wheel turned by runoff water from nearby Lake Honor. Student workers grind whole-grain meal and flour which is available for purchase inside the building. The mill's picturesque setting alone is worth the visit.
The upstairs area of the mill has been transformed into a weaving studio where students design and produce rugs, shawls, placemats and other items on traditional looms. These items are also on sale in the millhouse along with the college's famous fruitcakes, jellies, and apple butter.
It's not a museum but visitors are encouraged to step next door and visit the greenhouses that hold a collection of more than 7,000 orchids. Individual orchids and other plants are for sale at the greenhouse and supply many area businesses, including Shoji Tabuchi's orchids.
College of the Ozarks, P. O. Box 17 , Point Lookout , MO 65726 , phone 800-222-0525 or www.cofo.edu.
Copyright © 2005-2009 Branson Missouri by Writers Opinion LLC Send Comments, Privacy Policy, Terms And Conditions, Contact Us