Titanic the Legend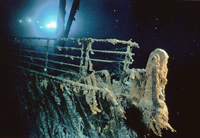 Titanic: The Legend Continues is a 17,000 square-ft. ship-shaped exhibit. The museum holds hundred of artifacts and offers visitors an idea of the actual size of the Titanic. Additionally, an "iceberg" is positioned at the point where the iceberg hit the Titanic.
Each ticket has the name of a passenger on it, allowing visitors to follow the fate of the passenger. Costumed "crew" members will greet visitors as they walk up a replica of the Grand Staircase on their way to viewing first-class accommodations.
A number of hands-on activities will be available for children including the ability to touch an iceberg and computerized imaging machines allowing them to send SOS telegrams.
An exclusive collection of photographs taken by first class passenger and Jesuit Priest, Father Francis Browne, and other items recovered at the time of the disaster are on display, including a dinner menu valued at $80,000. Memorial glass walls etched with the names of all passengers and crew who were on the ship are a part of the presentation. Every effort has been made to be respectful to the Titanic and the many lives lost.
Titanic: The Legend Continues, 3235 W. Highway 76, Branson, phone 417-334-9500 or www.Titanicbranson.com.
Copyright © 2005-2009 Branson Missouri by Writers Opinion LLC Send Comments, Privacy Policy, Terms And Conditions, Contact Us