Fall in the Ozarks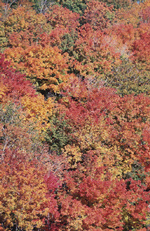 Branson celebrates its traditional American heritage in the fall with craft and music festivals, patriotic events and outdoor sporting activities.
Mid-September is time for the annual Autumn Daze Craft Festival in historic downtown Branson. 2010 dates coming soon! More than 150 crafters gather for this weekend event.
The autumn landscape in the Branson area explodes in an array of rich colors beginning in mid-September and lasting through mid-November. The Ozark Mountain Highroad (Highway 465) offers one of the most spectacular displays of fall color in the Midwest . This is an eight-mile, four-lane stretch from U.S. Highway 65, north of Branson, to Highway 76, west of the Branson city limits.
Other great ways to see fall color in the Ozarks is by helicopter, train and boat excursions.
Copyright © 2005-2009 Branson Missouri by Writers Opinion LLC Send Comments, Privacy Policy, Terms And Conditions, Contact Us