Uncle Ike's Trail Rides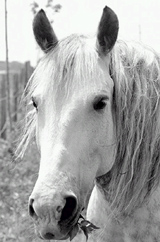 Uncle Ike's Trail Rides offers horse riding over natural trails covering 170 acres and four Ozarks' ridges. Following a guide single file at a leisurely pace through the woods, to the top of a ridge horse riders then drop down into the hollow, all the while enjoying the view. It's not unusual to spot deer or hear wild turkey in this peaceful environment.
Uncle Ike's has been around for nearly 30 years. With gentle horses and shaded trails riders follow the path of the old Pony Express. A meal cooked on the trail over an open fire is an option to round out the ride.
Both first timers and experienced horse riders will love the view of the wilderness area. With the ride lasting around 40 minutes, riders as young as six will enjoy this outdoor adventure.
Uncle Ike's, W. Branson 76, ¼-mile west of Silver Dollar City, Notch, phone 417-338-8449.
Copyright © 2005-2009 Branson Missouri by Writers Opinion LLC Send Comments, Privacy Policy, Terms And Conditions, Contact Us