Ripley's Believe It or Not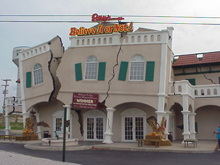 Ripley's Believe It or Not is a unique display of wacky oddities and quirky collections. Most guests agree that it is one of the strangest places to be seen in the whole world.
Robert Ripley's Believe It or Not has more than 400 exhibits in creatively themed galleries providing a unique journey of discovery and entertainment. Visitors see unusual artifacts that document man's customs, hobbies and experiences around the world. These exhibits show the world's tallest man, world records, weird collections, unique artifacts, pranks of nature, astonishing exhibits and optical illusions. These exhibits will fascinate, astound and mystify even the most resolute nonbeliever.
Ripley's Believe It or Not, 3326 W. Highway 76, Branson, phone 417-337-5300 or www.ripleysbranson.com.
Copyright © 2005-2009 Branson Missouri by Writers Opinion LLC Send Comments, Privacy Policy, Terms And Conditions, Contact Us