The American Presidential Museum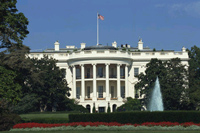 Preserving US Presidential History. From George Washington to George W. Bush - America 's Presidency comes alive at the American Presidential Museum.
This unique museum offers a glimpse into the democratic process that built America 's foundation. From the founding fathers, through today's challenges, U.S. Presidents have led the country through trying times and triumph.
From before they became President through their term in office to the year's following their Presidency, the American Presidential Museum is a look a Presidential lifestyle; work years and their contribution to the nation.
Visitors can sit in the Oval office, learn about the Presidential Seal, take the Oath of Office and learn more about the West Wing—the center of activity as the President's work-space.
Step Aboard Air Force One—the President's office in the air, and view actual Air Force One collectibles from more than 50 years of air service. This authentic look at President Nixon's plane allows a look at Presidential travel of the past.
View replicas of First Lady Inaugural Gowns while touring the Hall of First Ladies. This hall, filled with First Lady memorabilia from Grace Coolidge through Laura Bush, provides information about First Ladies, the most trusted advisor to the President.
Experience a journey through our nation's path to freedom while viewing the Freedom Shrine, a collection of 28 of the nation's most powerful documents—displayed are photographs of the actual document.
American Presidential Museum, 3107 W. Highway 76, behind Starlite Theater—look for large American flag, Branson, phone 417-334-8683 or www.americanpresidentialmuseum.com.
Copyright © 2005-2009 Branson Missouri by Writers Opinion LLC Send Comments, Privacy Policy, Terms And Conditions, Contact Us