Veterans Memorial Museum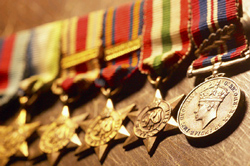 The vision of a rural Nebraska man, Fred Hoppe Jr. has created what the Veterans Task Force calls one of the "greatest tributes ever completed for the Veterans of the Twentieth Century." Along with designing, funding and building the Veterans Memorial Museum, Mr. Hoppe also collected and then wrote the scripts for over 2000 rare military artifacts he donated to the Museum.
Greeting visitors out front is a full-size World War II P-51 Mustang fighter plane. Inside are exhibits from all the wars of the 20th century including World War I and II, Korea, Vietnam, Desert Storm and Bosnia. The museum is filled with hundreds of exhibits and murals honoring all branches of military services, campaigns, major battlefields, industrial defense and the enduring support of the American people.
The hallmark of the museum is the world's largest war memorial sculpture created by Fred Hoppe. It is a 70 foot long, 15 ton bronze sculpture, consisting of 50 life-size soldiers storming a beach. Each figure is modeled after an actual WWII combat veteran, one from each of the 50 states.
Names of the men and women who died during the wars line each of the 5 great halls including the names of the over 500,000 U.S. soldiers who were killed in action in WWII. Touring the museum is a powerful, emotional experience.
Veterans Memorial Museum , 1250 W. Highway 76, Branson, phone 417-336-2300 or www.veteransmemorialbranson.com.
Copyright © 2005-2009 Branson Missouri by Writers Opinion LLC Send Comments, Privacy Policy, Terms And Conditions, Contact Us