Toy Museum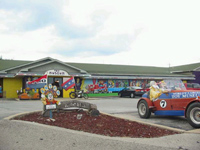 The world's largest toy museum located in Branson is a wonderful visit to "yesteryear!" There are toys as old as 100-year-old Teddy bears to toys as new as Barbie dolls and Star trek toys and every thing in between. As someone said, "The toys we had and the toys we wish we had!"
Toys from the 1800s to today include planes, trains, boats, automobiles, dolls, toy soldiers, bicycles, lunch boxes, cap guns, cast iron and tin wind-ups, pedals cars and more.
The Toy Museum is a wonderful way to share family memories as grandparents and parents point out to their children the toys enjoyed in their childhood. The Museum has two overhead tracks with two Lionel Trains running on them.
The owners, Tom and Wendy Beck, have been collecting toys for more than 25 years and once traveled and collected full time for three and a half years.
Toy Museum , 3609 W. Highway 76, Branson, phone 417-332-1499 or www.worldslargesttoymuseum.com
Copyright © 2005-2009 Branson Missouri by Writers Opinion LLC Send Comments, Privacy Policy, Terms And Conditions, Contact Us